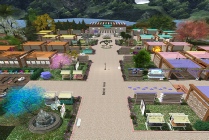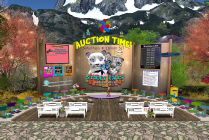 Chat in our Group!
* Stray Cats Breedables Main Group *
Our community loves to chat and share.
If you need a CSR,
this is the place to ask.
Or contact Nic♥ (Nicolyti Resident)
General Manager, for assistance.
Can't reach anyone for help?
File a Ticket Here !
STRAY CATS TEAM
Chief
Nicolyti Resident
Scripter
StrayCatsScripter Resident
Our CSRs
Cat-A-Lyst (CathrynDawn)
Gabonica Lorefield
Rhadira Stromfield

Class/Group Chat
Q&A time With Nic
Wednesdays -12noon - 2pm SLT
Upstairs in the classroom @ HQ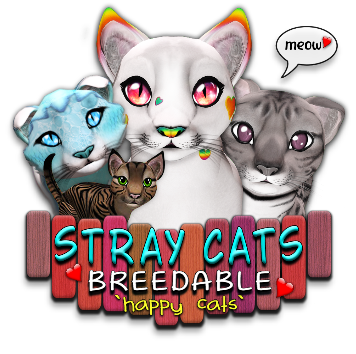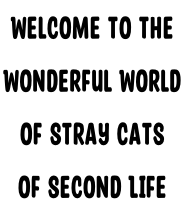 Stray Cats is proud to help support and brag about our excellent breeders!
Join our monthly breeding contest and win prizes!
Your cat submissions are calculated mathematically to reflect
quality over quantity for trait values…..
Please read all about it here!
No results for October. Not enough participants.
November submissions are open until December 2nd!
Send to Nic♥ inworld!
Faboo Skelly - Inverse
Faboo Fawn - Mango
Faboo Koala - Ruddy
Faboo Tiger - Lemon
Abyssinian - Aurora Blue
Breeding Excellence Award Monthly Contest
Did you know that you can search for specific kitties IDs by using the Search-Description option in your SL inventory?
Open your inventory.
Click on the gear (settings) 'to the left of the + sign low down'
Look about ¼ of the way down and you will find 'Search By' - Choose Description.
In the white box at the top, type in the ID you are looking for, like 790022 and hit 'enter'.
Pretty darn cool!
Don't forget to go back to the gear (settings) and change the Search By back to 'Name'.

©2023 Stray Cats Breedables - All rights reserved
Second Life is a registered trademark of Linden Research, Inc. We are not directly affiliated with Second Life.

Look for new every 1st Monday of the month!
RFL Winter Event Is OPEN!
Runs December 1-10, 2023 - look for in-world notice for location
http://maps.secondlife.com/secondlife/Expo%202/123/27/23
This year Strays is releasing, exclusive at this event,
LEs (Limiteds) that will start off our new 9th trait, WHISKERS!
There will be 3 LEs each with a different new whisker,
Bushy - Spikey - French Curl
These LEs will have the visible new whiskers, and hidden is Standard
Whiskers. These new whiskers will breed genetically from the mother
and father like our other traits. Your existing cats that only have 8 possible traits, have standard-looking whiskers, and do not have the DNA for the 9th whiskers trait. Breeding your 8-trait cats with 9-trait cats will produce
offspring that now carry the 9th whiskers trait.
We need to breed this new 9th trait into our population :)
VALENTINE BREEDING THEME CONTEST! Officially Announced!
We are announcing this now, as you will need the time to breed for
participation. Please read the information here -)
What terrific babies you will make!!!