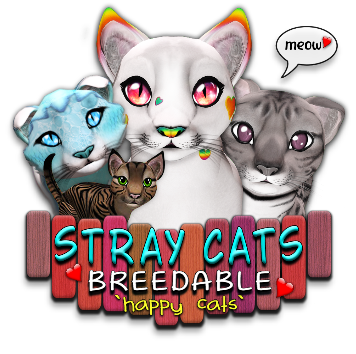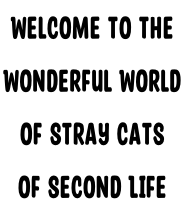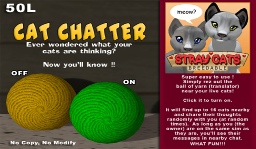 -RESIZERS
Jumbo - Makes your cat 15x larger and rideable!
Large - Makes your cat 6x larger in size
Small - Makes your cat 'kitten' size forever.
These potions are for looks only. Enhancements do not pass.
-PURRMANENTLY YOURS (discounted)
-SHADE REMOVER SHAMPOO
Litterboxes, Toilet Paper, Floppity Fish, Xylophone, Catnip Butterflies, Stray Tip Jars
All 13 Zodiac Sign Cats are available at HQ.
They come in shade and non-shade versions.
Aquarius, Pisces, Aries, Taurus, Gemini, Cancer, Leo, Virgo, Libra, Scorpio, Sagittarius, Capricorn, Ophiuchus

HUGE ASSORTMENT OF POSSIBLE ATTACHMENTS AVAILABLE FOR YOUR KITTIES, INCLUDING
Wings - Angel, Dragon and Bat
Fangs, Bows, Hats, Moustache, Tiara, Pearls, Ruffles, Bread, Halos, Collars, Goatees, Berets, Nose Butterflies - Camo Caps!
Sooooo much more!
We are always adding new things. Check HQ once in awhile for goodies.
Personalize and beautify your kitties!
Also available- Figurine Collectiibles of Shell/unborn Statuettes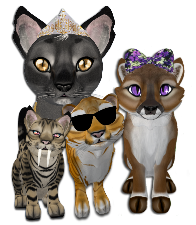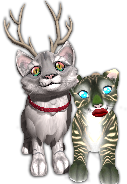 Pumpkin Donut Food
Pumpkin Spice Latte (Milk)
Cat Candy Corn Bandana
Lucky Chair
Jack -o-Lantern Tag Collar
Points Exchange Token - This will now let you sell your extra Stray Points to another breeder.
Updaters v1.44 & v1.44a
Emergency Kit 1.4 (updated to work with 1.44a)
CAT HUD Giver
Food & Milk Bowls
Utility Post Tool - Quick handy tool to let you know your current Stray Points,
and quick access to your Webtools
Destiny Travel Suitcase - For destinying multiple shells at once (no need to birth)
Please always read the Help Notecards to understand how these work.
Cat Chatter & Updater to 2.1 - Want to know what your cats are thinking?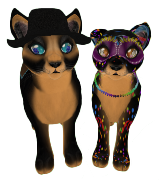 Each unlocks two new pelt colors onto specific breeds.
Latest Elemental Added: ICE
Purchase with 10k stray points.


Each unlocks two new pelt colors onto specific breeds.
Purchase with 6k stray points.
Informational Notecards
Are always available at HQ
to assist you, plus
our Manual in many different languages is provided.
Located in the Tools area at HQ.
There is now an Updater to give you the new version 2.1.
Cat Chatter 2.1 will add a menu to give you the option to choose to broadcast privately or publicly.
It also has new updated chatter!!!
Grab your cat chatter and bring it to HQ and place it in the Updater basket and click the ball of yarn to update. TaDa!
A new 2.1 version has been sent to your inventory in Objects!!!
OH NO!!
Cat Headquarters has a mouse problem!!
Help us get rid of them.
When you see a mouse, click on it. It will give you a cheese. Rez the cheese at HQ on Bast and win 1 Stray point, or more each time!