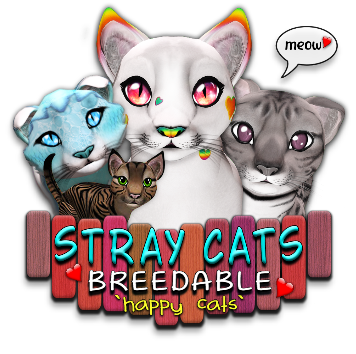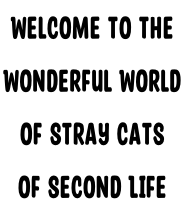 HOW TO APPLY A HEALTH KIT
Once you purchase a health kit, it does NOT get delivered to you.
All kits, like accessories/attachments go directly onto the server, in your account, to be applied via Webtools to your kitty.
1. So you bought a health kit. Add the Cat HUD to yourself, go to Webtools.
2. Click on the 'Cat Info' tab (your live cats) click the red 'Heal' next to the kitty that needs it.
Click 'yes' to apply the health kit.
Done!
3. In-world please pick up and re-rez that cat. It is healed and back to good health. Ta Da!
HOW TO ADD AN ATTACHMENT TO YOUR CAT
Once you purchase an attachment to add to your kitties, it does NOT get delivered to you.
All Accessories/attachments go directly onto the server, in your account, to be applied and attached to
your kitty.
So buy your accessory/attachment, add the Cat HUD to yourself, go to Webtools.
On your 'Cat Info' tab (your live cats) click 'Attach' next to the kitty you want to have an accessory/attachment.
A dropdown menu will appear. Scroll down to the Attachment and 'Add'. And Confirm.
Then inwold - pick and re-rez out that cat, and go to 'Settings' and turn on the accessories. Ta Da!
Please Note: Once an attachment is assigned to a kitty, it cannot go onto a different one.
You will lose the attachment if you replace it with a different attachment.
TO HOLD YOUR KITTY
Simply right-click 'WEAR' or 'ADD' from inventory - (remember to right-click 'detach' to return it to inventory, or to 'drop' when finished and it will remain inworld).
If the kitty does not go into the placement you want, like in your arms, or on your shoulder, for example, you simply (after adding or wearing) right-click and edit the kitty to the place you want it. After that, the placement will be remembered for the next time you wear that kitty.
Make sure your cat's animations are Off.....then once the kitty is worn, and in your arms, you can click the cat, and on their menu, 'set a pose' - try lounge, for example.
We are working on better interactions :)
TO HAVE YOUR KITTY WALK WITH YOU
From inventory, right-click on the kitty and 'ATTACH TO AVATAR CENTER'.
Its position will vary depending on your avatar's size, height, etc., so right-click, edit and move the cat to the ground wherever you would like it.
DONE! It will walk with you, with the walking animation, sit when you stop, TP with you all around the SL Universe :)
Please remember, if you are attaching a kitty that is not a "Purrmanently Yours" yet, they will require food after a short time. So this attaching is best done with a Purrma-cat.
SUGGESTIONS FOR PRICING YOUR KITTY(IES)
This is a tough one, and very subjective in the aspect of what people think is beautiful, but in general, it is recommended that the bare minimum value of a trait is 100L. That will vary with how rare the kitty's traits are. If, for example, there are less than 50 cats on our grid of a certain pelt, or maybe body combination, those are low numbers indeed, considering our cats are numbered in the 800K+.
Another consideration might be what kind of traits they are. All traits are not of equal value. If a cat is fully traited with 8 traits, but those traits are very common, then that estimate of 100L per trait could work.
But if it has a rarer combination of traits, apply more!!! You worked hard to make that cat!
Please also consider that if you ask too little, you are devaluing your cat and too, the market might be adversely affected, which would affect you as well.
On Strays home sim of Bast, it is recommended that no kitty should be sold for less than 200L.
YOU CAN MAKE YOUR KITTIES TALK (DID YOU KNOW?)
* Open your Stray Cats HUD.
* With one or more cats nearby that you own, click "Select Cat" on your HUD.
* Your cats should show hovertext that says "Select me!"
* Click on the desired cat - its ID number should appear on your HUD now
* Click "talk" on the HUD
* Paste the sound's asset UUID and description text separated with a semi-colon into the Text Box that appears in the upper right corner of your screen, using the following format:
UUID;text
example: 84f15d33-2e03-0e10-eda2-3ff98f573101;Cow mooing!
* click "Submit"
You can now entertain your friends with your singing, talking cat!
You can also just enter chat text by itself, with no sound UUID.
To get the UUID of a sound:
* Open your Inventory window
* Find the desired sound
* Right-click and select "Copy Asset UUID"
Some examples you can try:
e95c96a5-293c-bb7a-57ad-ce2e785ad85f;beware my powers!
2929964f-fac5-40d7-9179-2864a8fa9ace;chirp
ab858f9a-1f44-4d39-9b33-351543d03ccb;hey, come here!
843dea69-326e-09d0-d6b0-6e6fa1e3a4bf;Hey good looking!