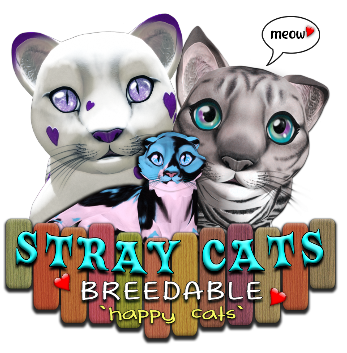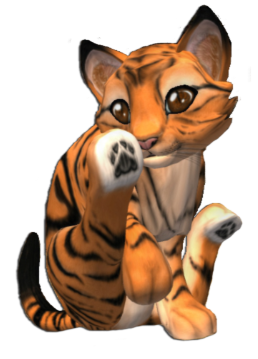 Second Life's Best Cat Breedable Ever!





Our CSRs
Cat-A-Lyst (CathrynDawn)
Gabonica Lorefield
Mogsway Lavendel
or
Nekos - Coral (and the Faboo Fawn, Solid and Bengals now have Coral pelt too)
Faboo Fox - Carnelian
Sphynx - Cinnamon
Faboo Cheetah - Cerise
Faboo Dragon - Tropic Bloom
June Photo Contest , 2022!
The Theme is Music, as June is National DJ Month!!
Nic must have your pics submitted by July 1st
Then you will vote for your fav! See all info here>
Chat in our Group!
* Stray Cats Breedables Main Group *
Our community loves to chat and share.
If you need a CSR,
this is the place to ask.
Or contact Nic♥ (Nicolyti Resident)
General Manager, for assistance.
Can't reach anyone for help?
File a Ticket Here !
Stray Cats have a Flickr Page
Join and Share today!!!
Stray Cats have a Discord Channel
Join and Share today!!!
The event has started, running June 16th-July 5th!
We have a commemorative LE, the Steampunk Kitty, available at
our Cat-HQ; a pet version and a breedable version is also for sale for
those of you who want to breed the scottish ear, new Steampunk eye
and shade, Whiskers Copper (maybe?).
Links:
Cat HQ SL19B Event Tapesty of Time and Gift Area
Please, as always, wait for the in-world notice for confirmation when it's ON!
Giving you a big heads up this time……please read
Nicolyti Resident
General Manager
StrayCatsScripter Resident
Scripter
Did you know that you can search for specific kitties IDs by using the Search-Description option in your SL inventory?
Open your inventory.
Click on the gear (settings) 'to the left of the + sign low down'
Look about ¼ of the way down and you will find 'Search By' - Choose Description. In the white box at the top, type in the ID you are looking for, like 790022 and hit 'enter'.
Pretty darn cool!
Don't forget to go back to the gear (settings) and change the Search By back to 'Name'.

Class/Group Chat Q&A time -
Every Friday @ 12noon SLT at HQ Upstairs