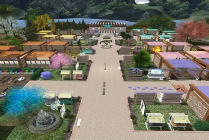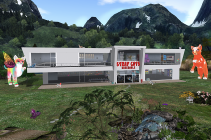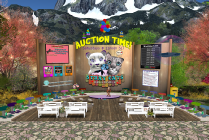 Chat in our Group!
* Stray Cats Breedables Main Group *
Our community loves to chat and share.
If you need a CSR,
this is the place to ask.
Or contact Nic♥ (Nicolyti Resident)
General Manager, for assistance.
Can't reach anyone for help?
File a Ticket Here !
STRAY CATS TEAM
Chief
Nicolyti Resident
Scripter
StrayCatsScripter Resident
Our CSRs
Cat-A-Lyst (CathrynDawn)
Gabonica Lorefield
Rhadira Stromfield

Class/Group Chat
Q&A time With Nic
Wednesdays -12noon - 2pm SLT
Upstairs in the classroom @ HQ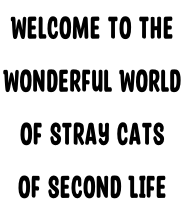 Stray Cats is proud to help support and brag about our excellent breeders!
Join our monthly breeding contest and win prizes!
Your cat submissions are calculated mathematically to reflect quality over quantity for trait values…..
Please read all about it here!
No results for August. Not enough participants.
September submissions are open until October 2nd!
Send to Nic♥ inworld!
Sphynx - Sea Glass
Faboo Skunk - Pink
Faboo Dragon - Night Sunset
Faboo Yeti - Sky Blue
Magic Night - Seafoam
Faboo Wolf - Onyx
Breeding Excellence Award Monthly Contest
Did you know that you can search for specific kitties IDs by using the Search-Description option in your SL inventory?
Open your inventory.
Click on the gear (settings) 'to the left of the + sign low down'
Look about ¼ of the way down and you will find 'Search By' - Choose Description.
In the white box at the top, type in the ID you are looking for, like 790022 and hit 'enter'.
Pretty darn cool!
Don't forget to go back to the gear (settings) and change the Search By back to 'Name'.

©2023 Stray Cats Breedables - All rights reserved
Second Life is a registered trademark of Linden Research, Inc. We are not directly affiliated with Second Life.

Look for new every 1st Monday of the month!
2023 Autumn LE - First Frost
Is now….……..ON!
It is a random possible drop to any breeding Stray cats from
September 23rd - October 8th, 2023
Good luck everyone!!!
Coming up: Rocket Ship to Catonia - this time we are sending off
Sleek shade kitties to visit Catonia, and in exchange,
you will receive a Faboo Skelly! The start of a new breed!
This breed was added by popular request, based on our 2020 Skeleton LE.
What a fantastic addition it will be!
(More info to come-sneak peek-https://prnt.sc/EjsaeQ_L5jNy)
And of course, our next LE - Halloween!!